The Benefits of Wild Boar Meat Surpass Beef, Pork and Even Chicken!
For centuries, wild boar meat has been a delicacy enjoyed by the aristocracy of Europe. It is increasingly sought after by chefs and consumers looking for a unique flavor.
Sayersbrook Wild Boar contains
No added hormones
No antibiotics
No additives
No Steroids
from natural foraging animals
What Does Wild Boar Taste Like?
Wild boar meat has a strong, nutty, rich flavor that is unique and often not comparable to other meats.The meat is not gamey tasting, it's meat is darker in color with a distinct, with a flavorful taste. It is not prone to illness or disease.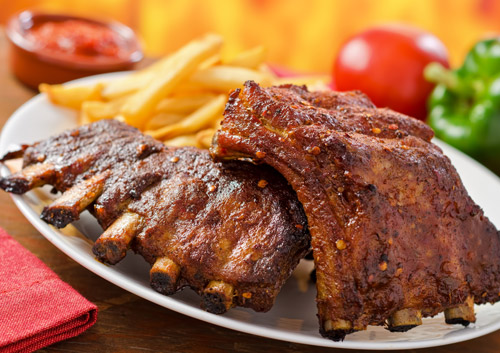 What's the Difference Between Wild Boar and Pig?
It comes down to diet and exercise. Farm raised pigs are fed a homogeneous diet compared to that of wild boars which will give a more complex, deeper flavor. Wild boars are far more physically active than their farm raised counterparts which will alter their muscle/fat composition. Wild Boar are not kept in enclosures as are pigs. They are free to roam and forage for their food.
Although you may expect it to resemble pork, wild boar is a dark red meat. Unlike its domestic cousin, wild boar is also very lean and low in cholesterol. Wild boar is an excellent alternative to beef and pork for those who want food that is good for them without sacrificing taste and quality.
Wild Boar high in protein. They are a good source of monounsaturated fats and zinc.
Rich in Iron
Low in Sodium
Rich in Niacine
Rich in Selenium.
Rich in Thiamine
Rich in Vitamine B6
Rich in Zinc
Below you can see the differences between wild boar as compared to chicken, beef and pork.
PER 100g PORTION (3.5 oz)
RAW MEAT
CHOLESTEROL IN MG
PROTEIN IN GRAMS
SATURATED FAT IN GRAMS
UNSATURATED FAT IN GRAMS
WILD BOAR
55
26.1
5.2
2.9
BEEF
62
19.6
11.2
4.1
PORK
71
16.6
22.5
8.3
CHICKEN
57
20.5
4.3
1.4
Recipes
There's something about racks of meat that really get people excited. Perhaps it's the presentation, or maybe it's our seeing a large, hunk of meat hanging gingerly from a bone is going to be delicious.
Watch this cooking video on step by step directions to prepare the most delicious tasting rack of wild boar
Wild Boar Stew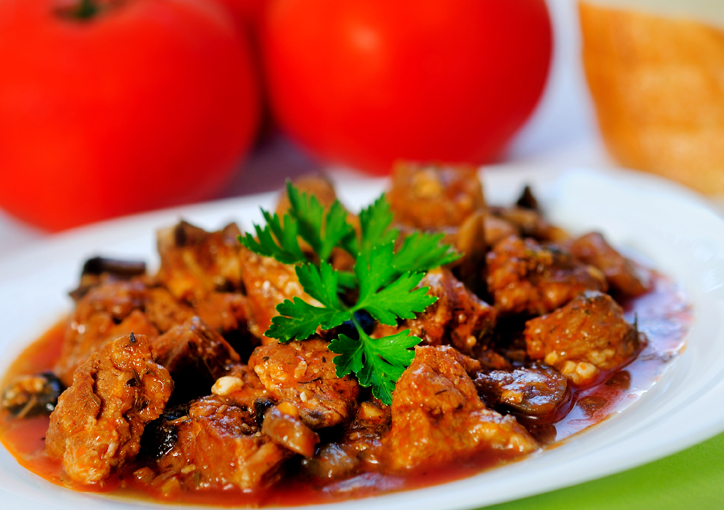 Ingredients
2 pounds wild boar stewing meat, cut into 1-inch pieces
1 cup chopped onion
3 cloves garlic, minced
2 tablespoons all-purpose flour
1 tablespoon paprika
1 teaspoon salt
1/2teaspoon black pepper
1/4teaspoon dried thyme
1 (28-ounce) can whole tomatoes, undrained, coarsely chopped
3 carrots, peeled and cut into 1-1/2-inch chunks
1 green or red pepper chopped
2 celery stalks (cut off leaves)
3 small potatoes diced
1 bay leaf
1 (8-ounce) container sour cream
parsley to taste
handful of small noodles or rice uncooked
Directions
In a small bowl, combine flour, paprika, salt, pepper, and thyme; mix well. Add to meat mixture, tossing to coat well.
Combine wild boar mixture, onion, and garlic; mix well.
In a 5-quart pot add some oil (corn or canola) and heat,
Add the meat mixture and quickly sauté .
Add tomatoes with liquid, carrots, potatoes, celery, green pepper, parsley and bay leaf.
Add water just until meat and vegetables are covered. If you feel you have added too much water, just simmer uncovered for a little longer so that excess water evaporates.
Cover and cook on MEDIUM HIGH setting until boiling. Lower temperature to a simmer for 2-1/2 hours, or until the meat is fork-tender. Remove and discard bay leaf. Stir in sour cream. During the last 10 minutes add some noodles or rice uncooked to the pot. If it's too thick add a little water.
Wild Boar Cooking Tips
FOR MOST TENDER CUTS USE DRY HEAT
FOR MEDIUM TENDER CUTS USE A COMBINATION OF DRY AND MOIST HEAT
FOR LESS TENDER CUTS USE MOIST HEAT
USE LOW COOKING TEMPERATURES
COOK SLOWLY
DO NOT COOK PAST MEDIUM DONE STAGE
COOK LESS TENDER CUTS UNTIL FORK GOES IN EASILY
Do not cook or thaw in a microwave because this will toughen the meat. Slowly thaw meat the day before and marinate overnight for best results. Pineapple juice or wine is an effective meat tenderizer.
You can substitute wild boar meat for recipes calling for game meat.
Sayersbrook bison and game meats are all natural, with not additives of any kind. NO added hormones, NO Antibiotics, NO Steroids.
It's so easy to order. We deliver right to your door. Shipping is free for orders over $249.